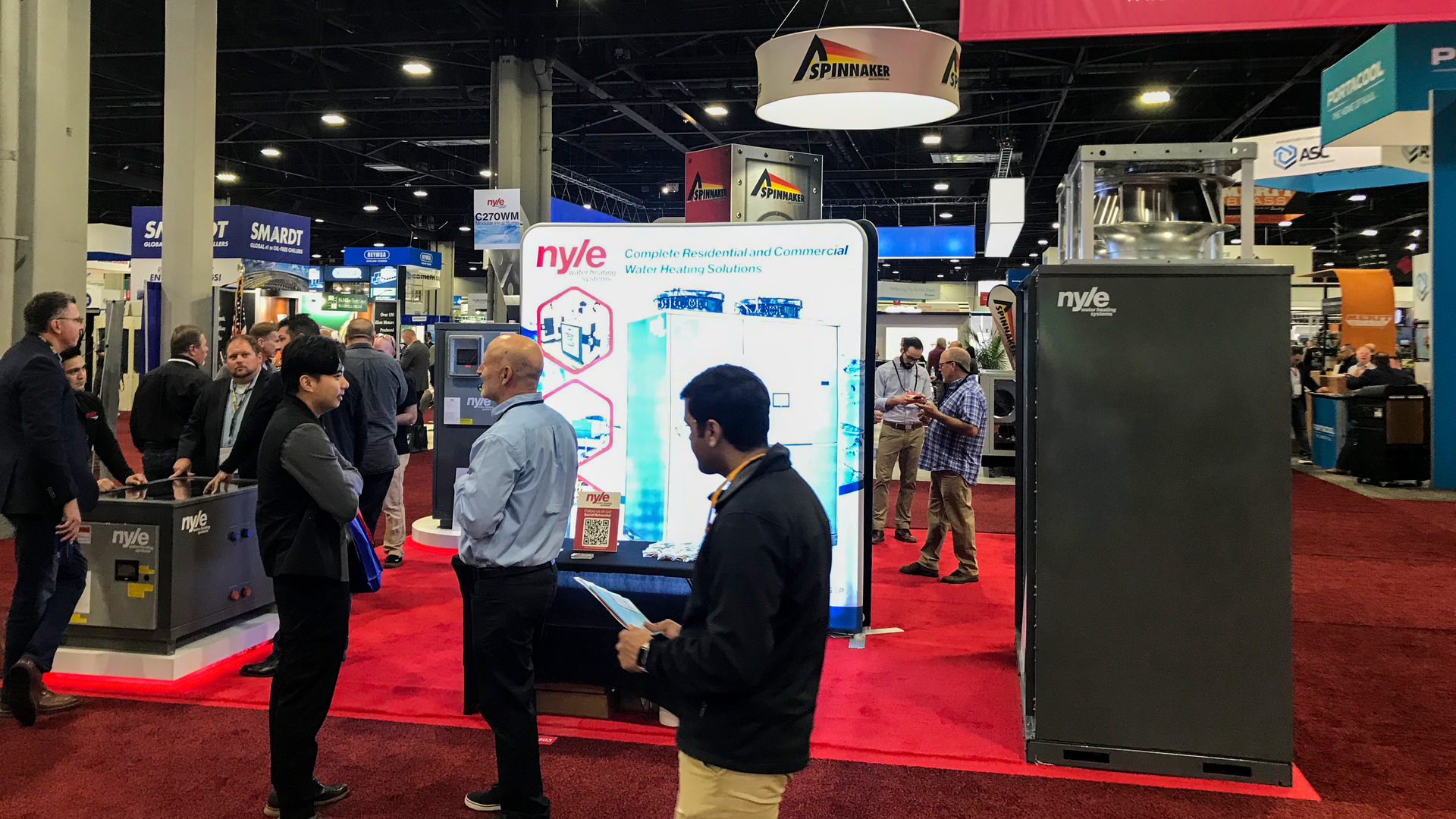 Nyle Water Heating Systems recently wrapped up AHR2023 expo, one of the largest HVAC events in the world.
At Nyle, we were proud to showcase our innovative water heating systems to attendees, and we were thrilled to see such a positive response. From contractors and engineers to facility managers and building owners, the show provided us with a fantastic opportunity to connect with new and existing customers and demonstrate our commitment to sustainability, energy efficiency, and cost-saving solutions.
We'd like to extend a heartfelt thank you to all the attendees who stopped by our booth and engaged in discussions with our team. Your enthusiasm and support were truly appreciated. We would also like to thank the event organizers, volunteers, and staff for their hard work in making the expo a great success.
The AHR2023 expo was a fantastic experience for Nyle Water Heating Systems, and we look forward to participating in future events. Thank you again to all those who made the event possible and a special thank you to those who took the time to visit us at the show. We look forward to participating in future upcoming AHR events.
We are excited to announce the launch of our newly updated Nyle Water Heating Systems website! Our website has been redesigned to provide a more user-friendly experience and to offer more information about our products and services. A fresh new design isn't the only change, we've also updated our domain to Heatwater.com.
Additionally, our website now features a new "Rep Locator" search feature, where you can find contact information for all of our reps and there is also a new "Residential Solutions" page that contains information regarding the e8 Low-GWP HPWH.
Please update your bookmarks and visit us at our new website, HeatWater.com, to continue accessing the latest information about our water heating systems. As we continue to improve our website we'd appreciate feedback on the experience.
Factory Certification Training
Nyle Water Heating Systems continues to provide training sessions for factory certification. Remember, all NWHS HPWHs must be commissioned by a factory-trained technician in order to activate the warranty. We look forward to showing you our facility and training your technicians on our equipment. We will include training in basic refrigeration, electrical testing, controls, system design, and our start-up procedure. We will be providing you with meals and accommodations while you are our guests.
If you are interested in sending your technicians to any of our training sessions contact your sales rep and provide them with the technician's Name, Email, Position, and phone number or sign up with the link below.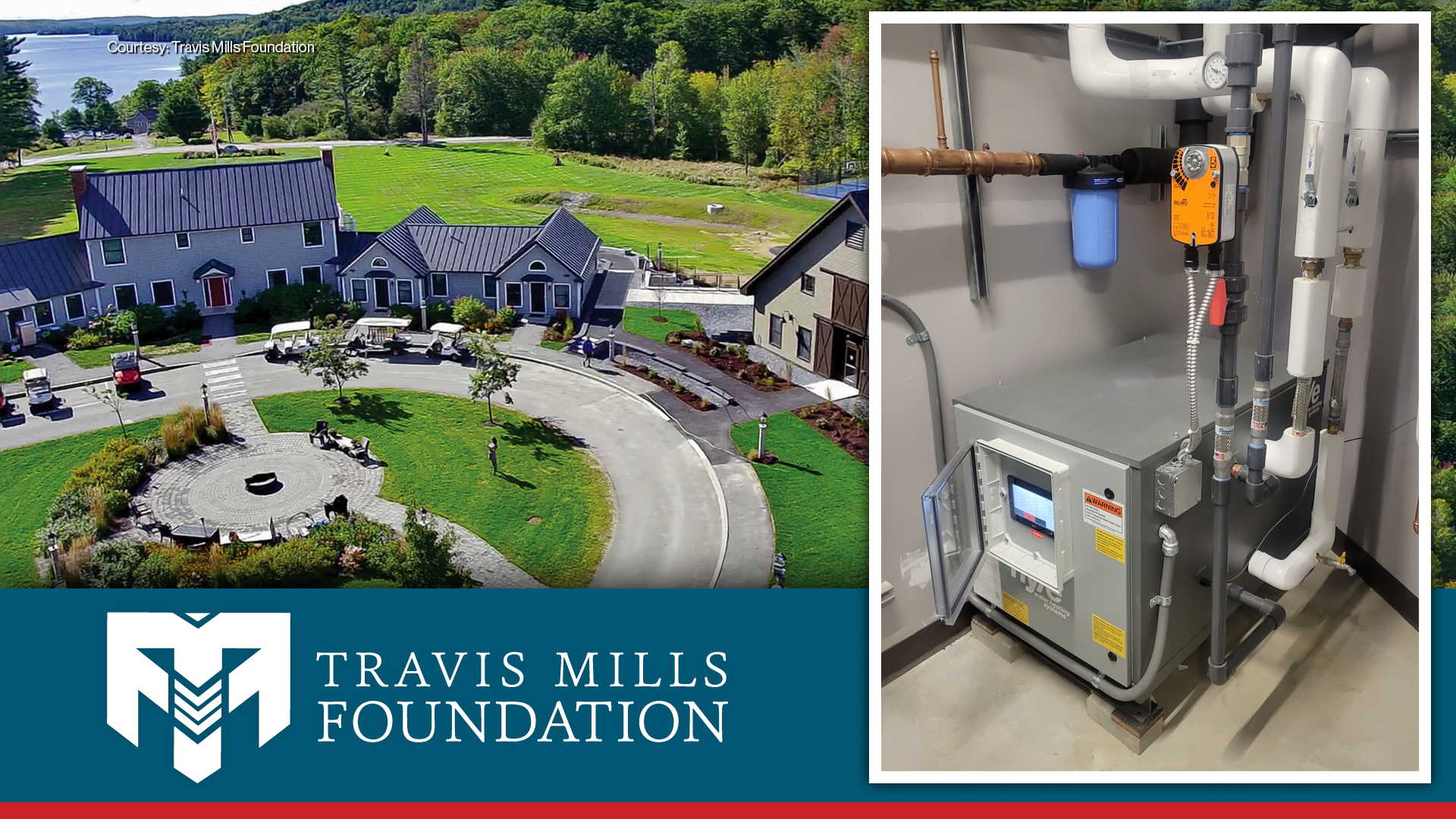 Nyle Water Heating Systems has recently installed four of our innovative C60W water heaters in the brand-new Travis Mills Foundation fitness center. This is great news for both Nyle and the foundation, as the C60W is a top-of-the-line water heating system that is both energy-efficient and cost-effective.
The Travis Mills Foundation is a non-profit organization located in Mt. Vernon, Maine, that provides a retreat for wounded veterans and their families. The fitness center is just one of the many facilities that the foundation offers to help these brave men and women recover from their injuries and get back to living their lives to the fullest.
At Nyle, we are proud to have our C60W water heaters installed in the Travis Mills Foundation fitness center. It is an honor to be able to support such a worthy cause and to provide the foundation with the best possible water heating solution. We are confident that the C60W will provide years of reliable, efficient service to the foundation, the veterans, and the families it serves.
Heat Pumps are defying Maine's winters
The article reports on the growing popularity of heat pumps in Maine as a cleaner alternative to traditional heating systems. While the gas industry is pushing back against this trend, proponents argue that heat pumps are not only more environmentally friendly, but also more cost-effective in the long run. The state government has also implemented incentives and initiatives to encourage the adoption of heat pumps. Overall, the article highlights the potential for heat pumps to play a significant role in reducing carbon emissions and advancing clean energy goals.
Copyright © 2023 Nyle Water Heating Systems, All rights reserved.